Call 954-763-2955 to request an appointment.
Enjoy an amazing massage by a Licensed Massage Therapist. My rate is $80/hour. I offer a variety of packages and discounts. Choose from a variety of treatments to improve your physical and emotional wellness. I offer an extensive menu including but not limited to Swedish, Deep Tissue (Structural Integration aka Rolfing) Hot Stone,and for the athletes, Sports Massage. Please take some time to look through my site.
Enjoy a great massage today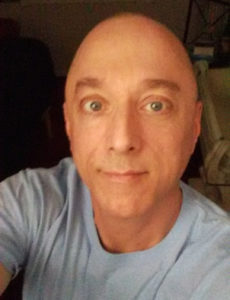 In 1996, when I graduated from Massage Arts and Sciences of Philadelphia. After working as a therapist at the Ritz Carlton in Philadelphia for 4 years before I moved to Florida. I am now a licensed massage therapist in Florida.
You will receive super first-rate services during every treatment. You can help me improve my service to you by telling me what massage techniques work best for you. Tell me if you have pain or if you just want to relax.
How to get a great massage treatment
Here are some things that you can do that help you enjoy your experience.
discuss the type of treatment you are seeking and the cost before you make the appointment
book 24 hours in advance
ask me questions before your treatment so you can relax and enjoy during
arrive 5 minutes early-this will enable us to discuss your treatment and give you the full time on the table.
smell clean and fresh with no excess of perfume or cologne
take off jewelry
communicate your feelings during the treatment-letting me know that what I do feels good helps me to do it better, and I absolutely do not want to do anything you don't like
regulate the depth of pressure by simply saying 'lighter' or 'deeper'
take advantage of financial incentives
Financial Incentives
Buy 3 sessions for $180
book before noon on Monday, Wednesday and Friday and receive 20% off
come from the gym, get free assisted stretching before your Swedish or Deep Tissue treatment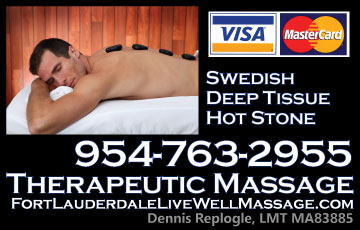 Call 954-763-2955 to request an appointment.
If I do not answer, please leave a message
I take cash and plastic.